STC361 - STC461 Hydraulic grinding/milling machine for cylinder heads and blocks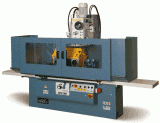 STC 361 are hydraulic grinding machines for small and medium-size cylinder heads and blocksand blocks.
STC461 are hydraulic grinding and milling machine for medium and big size cylinder heads and blocks
These machines are accurate and versatile: they make it possible to solve all grinding problems in an optimal and economic way.
STC 361 & STC461 machines are characterized by the automatic alternating movement of the table which is hydraulically controlled; the head is operated by one of the main motors which directly controls the grinding wheel shaft and by an additional motor for cutter control.
These machines allow for three different grinding procedures: with grinding wheel, single-edged cutting tool or insert milling cutter.
For further information

STC 361

Download Brochure
STC 461

Download Brochure
Are you trying to inquire about a part or check availability of a product or a solution service?
Please either call +60-3-7785 1255 at or email us at wso@assurich.com.my or submit an enquiry form online.