AC 1000A Cylinder boring machines (NC)

AC 1000A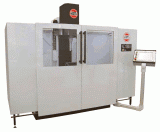 Thanks to the most advanced technologies, Berco has recently developed new products for the internal combustion engines sector, in order to improve and facilitate the execution of different working steps necessary to reach an high quality product.

The introduction in the market of the new CNC cylinder boring machine AC100A represents the solution on the most complex problems involved into the reconditioning of the engine block.

The machine, with its three-axis numerical control system driven by high precision ball screws and with special drives powered by digital brushless motors, allows extremely accurate feed speed setting as well as axis positioning with a considerable reduction of the working cycle time.

The new AC1000A includes an automatic centering system performed by an electronic probe "Renishaw" that checks the cylinders diameter as well.

The control keyboard uses the "Touch Screen" system and grants an extremely simple programming, suitable to be used from all operators.

The spindles is provide with cone ISO40 or Berco spindle connection.
For further information

Download Brochure
Are you trying to inquire about a part or check availability of a product or a solution service?
Please either call +60-3-7785 1255 at or email us at wso@assurich.com.my or submit an enquiry form online.