Machine Tools
BEMATO

BANDSAWS

Metal Cutting Bandsaw
Vertical Bandsaw
Double Column Bandsaw
Cold Saw & Saw Disc Grinder

BMT 16COS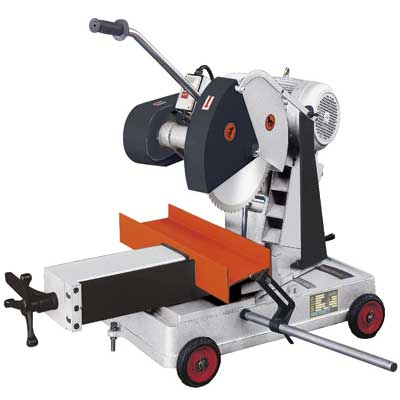 BMT 16COS
BMT 16COS
FEATURES :

0°~45° cutting angle

Sharp and durable carbide saw blade

High speed cutting and no coolant needed

Smooth and burr free cutting surface

Suitable for cutting materials of steel, brass, aluminum in shapes of H beam, pipes and angle iron.

Abbrasive cut off disc is available as an option.
STANDARD ACCESSORIES :

Tungsten carbide saw blade (Ø 405 x 2.5mm x 80T)

Workpiece stopper

Adjustable roller stand

Spanner for fixing blade

OPTIONAL ACCESSORIES :

Prismatic jaw plate

Abbrasive cut off disc Ø 405 mm
SPECIFICATION:

MODEL

BMT 16COS

CAPACITY 90°

65 mm 140mm 130 x 130 mm 110 x 110 mm 110 x 200 mm 125 x 60 mm

CAPACITY 45°

45 mm 140mm 110 x 110 mm 110 x 110 mm 110 x 200 mm 140 x 60 mm

MOTOR

5 HP (3.7kw), 3 ph

SAW BLADE

Ø 405 x 2.5 mm x 80 T

CUTTING SPEED

50HZ-790 RPM, 60HZ-950 RPM

PACKING SIZE

1210 x 610 x 1100mm (L x W x H)

N.W./ G.W.

190 / 230 kgs

*The above specifications are subject to change without prior notice.
Are you trying to inquire about a part or check availability of a product or a solution service?
Please either call +60-3-7785 1255 at or email us at wso@assurich.com.my or submit an enquiry form online.