SM 1000 - SM 1300 - SM 2000 Milling Machines for Cylinder Heads and Blocks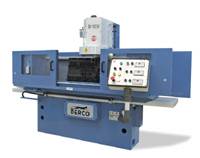 The reconditioning of cylinder heads, and valve seats in particular, is becoming an increasingly important aspect of internal combustion engine overhaul work. The fiel of cylinder head and block reconditioning there has been a growing tendency in recent years to switch from grinding with abrasive sectors to milling, using special CBN and PCD round inserts that are able to work at higher cutting speeds and without coolants. This kind of system reduces machining times considerably, whilst at the same time guaranteeing a high-grade surface finish (roughness). In the design and construction of this product, BERCO, as always, has paid great attention to the quality of the materials and components used, with particular reference to the very sturdy cast iron frame and the worktable and head movement mechanisms with their high-precision recirculating ball screws, which, thanks also to the special drives, powered by direct current motors, allow extremely precise worktable/workpiece feed speed setting and milling cutter positioning. In order to cater for varying user needs, BERCO has made two machine versions, the "SM1000" and the "SM1300" for small and medium size cylinder haeds and blocks and "SM2000" for medium and big size cylinder haeds and blocks:
SM 1000 M - SM 1300 M (manual versions)
SM 1000 A - SM 1300 A (automatic versions)
SM 2000 A (automatic versions)
For further information

SM1000 - SM1300

Download Brochure
SM2000

Download Brochure
Are you trying to inquire about a part or check availability of a product or a solution service?
Please either call +60-3-7785 1255 at or email us at wso@assurich.com.my or submit an enquiry form online.