ACP 160 Boring Machine line for cylinders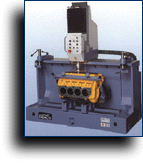 The manual version of ACP160M boring machine for cylinder blocks represents the most thechnologically advanced and most economically advantageous solution for engine reconditioning work-shops which do not have a large volume of monoblocks to be conditioned.

Its simple use, as well as its excellent performance, make it an extremely versatile machine capable of carrying out all the various boring operations in a rapid and secure manner, and at a very low cost.

The machine is available with normal or long machine bed.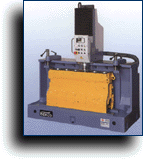 The semiautomatic version ACP 160S, compared to the manual version, has been designed for the client with a higher volume for reconditioning work on engine blocks.

Thanks for the control offered by the positioner, this machine allows for all boring operations to be carried out at high and efficient level of automation.

All movements of the boring bar are controlled by the electric servocontrols on the positioner, and are furthermore directly controllable from the console.

This machine can work in both manual and semiautomatic modes. In the case of semiautomatic mode, it is possibleto select the functions of either cylinder boring or spotfacing.
The CNC system allows the following operations to be carried out in automatic mode during the work cycle:
positioning of the boring unit at the level of the cylinder to be bored
quick vertical approch of the tool boring bar to the cylinder
precision spot-drilling and blocking of the boring unit on the machine bed surface
start up of the rotation and feeding of the boring bar movement
at the end of the work, feeding stop and rotation stop with the positioning of the tool and the rapid return of the boring bar to the position required for the next cylinder
at the end of the programmed cylinders working, the boring unit returns automatically to its position at the begining of the cycle
self learning of the working cycle
no.100 cycles to be stored
possibility to work in manual, semiautomatic and automatic modes
For further information

Download Brochure
Are you trying to inquire about a part or check availability of a product or a solution service?
Please either call +60-3-7785 1255 at or email us at wso@assurich.com.my or submit an enquiry form online.