ASV/B ASB/BL Valve Seat Boring Machine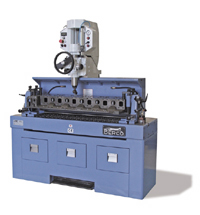 ASV_B The reconditioning of cylinder heads, and valve seats in particular, is becoming an increasingly important aspect of internal combustion engine overhaul work. A number of changes have been made to the new ASV/B model, the version intended for the smallmedium sized cylinder head range. The quill diameter has been enlarged to increase the machine's rigidity and, on request, a micrometric spindle feed device can be fitted to improve machining precision on the valve seats. As regards larger size diesel engines, continuous technological evolution has led to the manufacture of cylinder heads with four valves per cylinder as a standard feature, with a corresponding increase in the size of the cylinder heads themselves. The answer to the problems related to this can be found in the new ASV/BL valve seat boring machine.
For further information

Download Brochure
Are you trying to inquire about a part or check availability of a product or a solution service?
Please either call +60-3-7785 1255 at or email us at wso@assurich.com.my or submit an enquiry form online.