Lynx 2500-CNC Roll Grinder

A NEW GENERATION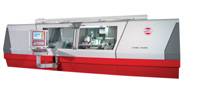 Lynx 2500 is a new generation CNC roll grinder, devised to provide a simple, innovative and versatile answer to all roll reconditioning and series production needs. With production processes planned to the finest detail and the use of the very latest technology combined with the experience of specialist engineers who have been working for many years in this specific field, roll grinding has become simple, fast and reliable. With its high productivity and excellent value for money, the Lynx 2500 also ensures a fast and profitable return on the investment made.


AN INNOVATIVE MACHINE

Thanks to the numerical control and specific software, the Lynx 2500 is capable of both grinding cylindrical surface rolls and producing convex, polynomial, concave and conical-ended rolls, guaranteeing maximum grinding flexibility and the possibility of producing any kind of roll with great precision. In particular, a series of features based on state-of-the-art technology guarantee the extremely high level of the products:
The use of a LINEAR MOTION SYSTEM for the axis movement gives greater precision and incomparable rigidity, thanks to the elimination of clearance (that produces machining defects and reduces precision) and stick-slip, perennial problems in grinders with traditional transmission systems.
The kind of excellent surface finish possible only with vibration-free grinding: for this reason Lynx 2500 grinders have DIRECT DRIVE motorised spindles on both the work and wheel heads, thus practically eliminating the vibrationrelated phenomena that jeopardise machining quality, so typical of belt-drive machine tools.
An extremely flexible CNC allows the creation of programs based on the specific machining requirements of each workpiece, thus making it possible to cater for the needs of each individual customer

VALUE ADDED IN EVERY PRODUCT

With its careful design and precision construction, the Lynx 2500 is able to machine rolls with production characteristics of total excellence, guaranteeing:
excellent dimensional and form tolerances
high precision roll contouring
excellent surface finish
great repeatability of results
very tight machining tolerances
better productivity and excellent value for money

THE MOST FLEXIBLE SOLUTION FOR THE RECONDITIONING AND SERIES PRODUCTION OF ROLLS

The Lynx 2500 is an extremely versatile and flexible roll grinding machine tool, thanks to the following incorporated solutions and technologies:
highly intuitive operatormachine interface, extremely user friendly with descriptions of grinding cycle parameters
easy control of grinding operations (no expert programmers required)
extremely easy process changeover
fast automatic setup
easily integrable with external
loading/unloading systems, gauging equipment, etc …
For further information

Download Brochure
Are you trying to inquire about a part or check availability of a product or a solution service?
Please either call +60-3-7785 1255 at or email us at wso@assurich.com.my or submit an enquiry form online.