DH 100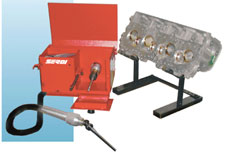 Reference # 028426
No more reaming with conventional reamers, this accurate diamond abrasive was designed with a flexible head driver tool. Precision and accuracy is the number one quality of this Diamond Hone equipment. The range of expandable diamonds can fit guides from 2.90mm up to 35mm! No more spending money on Pilots! The SERDI DH 100 adjusts your guides to the size you need in minutes!

High Precision Diamond Hone to machine guides from 2.90mm to 35mm! User-friendly and quick set up. Mounted tooling with long lasting diamond segment and harden steel pilot. Self-centering system with extreme accuracy and repeatability.
---
For further information

Download Brochure
Are you trying to inquire about a part or check availability of a product or a solution service?
Please either call +60-3-7785 1255 at or email us at wso@assurich.com.my or submit an enquiry form online.