Engine Rebuilding Equipments
SERDI

Valve Seat & Guide Machines
Valve Refacing Machines
Surface Grinding Machine
Pressure Tester
Washing Machine

Universal Workstation
SERDI 4.0 Power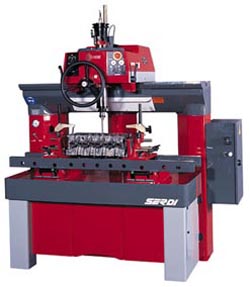 Reference # 024081

The SERDI 4.0 Power is the most versatile machine with pneumatic and hydraulic clamping of the workhead for the best rigidity during machining. Because of its triple air-floatation self-centering system, it makes the centering easier than any other machines in the market with an unmatched accuracy. Compared to the automatic machines, these manual operated SERDI machines are user-friendly for any operators and do not require demanding and expensive preventive maintenance.

The SERDI 4.0 Power the industry standard for all types of cylinder heads: from Micro-engine to big stationary engines because of its heavy duty frame.
---
For further information

Download Brochure
Are you trying to inquire about a part or check availability of a product or a solution service?
Please either call +60-3-7785 1255 at or email us at wso@assurich.com.my or submit an enquiry form online.