Engine Rebuilding Equipments
SERDI

Valve Seat & Guide Machines
Valve Refacing Machines
Surface Grinding Machine
Pressure Tester
Washing Machine

Universal Workstation
SERDI 5.0

Reference # 017100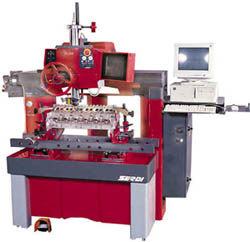 The SERDI 5.0 has the most advanced technologies to reach performance in a wide range of engines: from the smallest multivalves cylinder heads to the biggest diesel engines, the cutting power available does not affect the accuracy of the centering. It offers the ultimate in quality, control and repeatability.

The SERDI 5.0 is a semi automatic machine with learning program for machining valves guides and valves seats, ideal for machining automotive and diesel cylinder heads with an automatic cycle accurately.

---
For further information

Download Brochure
Are you trying to inquire about a part or check availability of a product or a solution service?
Please either call +60-3-7785 1255 at or email us at wso@assurich.com.my or submit an enquiry form online.