Engine Dynamometer System
SuperFlow

Chassis Dynamometers
Engine Dynamometers
Flowbenches
SF-902 Engine Dyno
Engine Dynamometer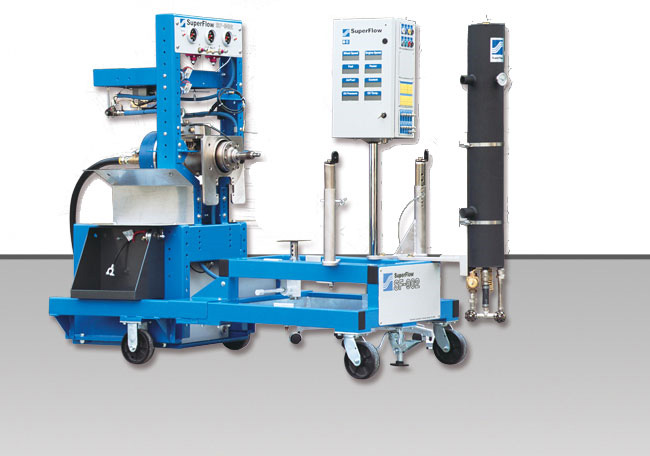 The SuperFlow SF-902 is the next generation engine dynamometer for all levels of engine builders. The SF-902 replaces our sturdy, industrial-duty SF-901 system that has proven itself over and over during the past 20+ years. Equipped with our super-fast electronics package and our unique engine cart/engine stand, the SF-902 is simply the most versatile engine dynamometer system on the market. Period.
SuperFlow's XConsole Classic provides state-of-the-art control and data acquisition capabilities. Internal system communication is done through CAT5 computer cables, and all gauges and meters can be removed and replaced from the front panel.There are no wiring harnesses or card-edge connectors on the XConsole Classic. The XConsole Classic can be outfitted with a variety of gauges to suit your needs. We include cut-outs for standard AutometerT gauges. Large LCD screens show live data, lighted rocker switches control engine and test cell equipment, and panel meters display torque, speed, power, or any other important data.
Our highly-acclaimed WinDyn software is included at no charge. WinDyn provides quick and easy test design and configuration, real-time data acquisition and display, and convenient test-data management, display and reporting.
The dynamometer can be configured as a roll-around engine stand like the old SF-901 or you can set it up with docking carts.
Use the SuperFlow SF-902 to measure power characteristics of your engines. It will tell you not only how much power, but where the power is in the speed range. For performing research and development, you can evaluate modifications one at a time, or as a complete system.
For race engines, you can ensure that the engine is right before it runs on race day. Develop on the dyno, race at the track. Whatever the engine's purpose, you can use the dyno to perform a quality audit. You ensure that the engine does what it's intended to do. Quantify the results of your modifications. Prove that you've built the engine you meant to build.
New operator console puts everything at your fingertips.
Choose docking cart or mobile dyno configuration.
Roll-around, wall-mount or optional boom-mounted sensor and control box are close for testing, and out-of-the-way when you need room to work.
New data acquisition and control system is faster and gathers more data.
Absorber works over a wide range of engine speeds and outputs, offering precise control for any acceleration rate.
Optional computer-controlled oil and coolant temperature systems.
Optional dual starter.
Features:
60-inch (1.5 m) engine stand with large casters. Narrow uprights for exhaust clearance
SF-833 water brake absorber, 1500 HP (1125 kW) rated capacity, outlet, controlled, low-inertia, with 4-bolt servo valve Interface load cell, 1000 lb.-ft. (1356 N-m) capacity, temperature compensated (2000 lb.-ft. optional)
Hydraulic throttle actuator system
Your choice of input shaft:
1.125" x 10-tooth spline
1.375" x 10-tooth spline
1.125" x 26-tooth spline
Data Acquisition and Control System
Pro data acquisition and control box
Interconnect panel with 2 pre-configured analog inputs (Lambda)
Integrated real-time weather station (air temperature, barometric pressure, humidity)
WinDyn™ software
System can run automated tests; Requires a computer system to save, view, and print test data
Operator's table with manual throttle control, large enough for a monitor, computer keyboard, and mouse
1 day of training*
Popular Options
16-channel thermocouple panel and 8 exhaust gas thermocouples
10-channel pressure panel with two pressure transducers: 0-150 psi and -15/+85 psi
Engine control panel - relays for ignition, starter, and fuel
Single-channel fuel system (fuel pump, regulator, fuel turbine)
Mini tower computer system, 17" CRT monitor, color printer
And many more... * Travel costs, travel time and expenses not included.
Specifications: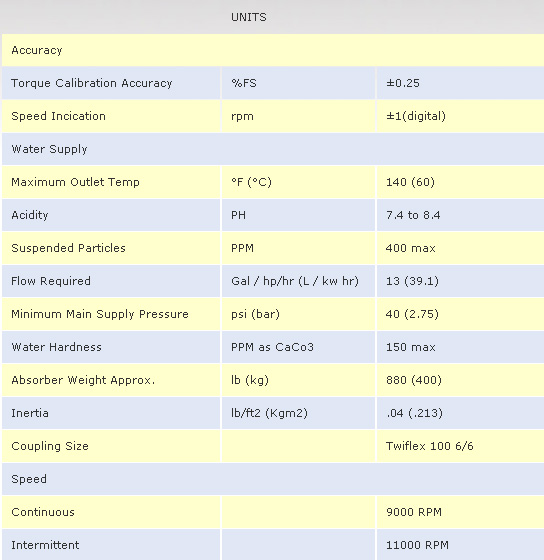 More Info:

Downloads
Are you trying to inquire about a part or check availability of a product or a solution service?
Please either call +60-3-7785 1255 at or email us at wso@assurich.com.my or submit an enquiry form online.