Racers Pack
Entry-level Engine Dynamometer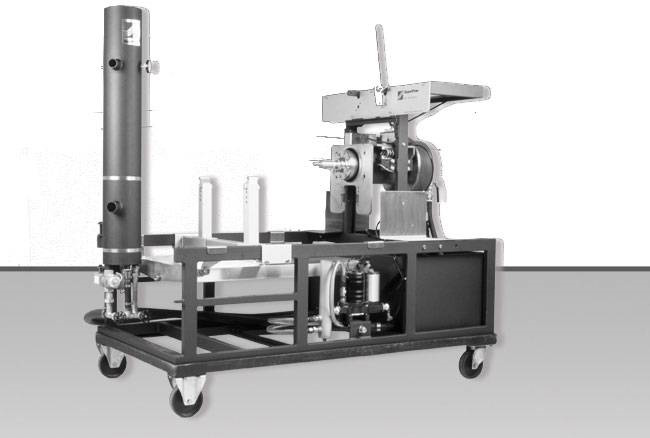 The SuperFlow Racers Pack engine dynamometer is our entry-level dynamometer system that can be upgraded as your needs change. Based on the sturdy, industrial-duty SF-901 system, the Racers' Pack engine dynamometer has our super-fast electronics package coupled with our standard engine stand.
Models:
SF-810
2 x 42" rolls, 22" wide
84" outer, 40" inner
Inertia only

2WD Large Roll

AWD Large Roll


Features:

60-inch (1.5 m) engine stand with large casters. Narrow uprights for exhaust clearance
SF-833 water brake absorber, 1500 HP (1125 kW) rated capacity, outlet, controlled, low-inertia, with 4-bolt servo valve Interface load cell, 1000 lb.-ft. (1356 N-m) capacity, temperature compensated (2000 lb.-ft. optional)
Hydraulic throttle actuator system
Your choice of input shaft:
1.125" x 10-tooth spline
1.375" x 10-tooth spline
1.125" x 26-tooth spline
Data Acquisition and Control System
Pro data acquisition and control box
Interconnect panel with 2 pre-configured analog inputs (Lambda)
Integrated real-time weather station (air temperature, barometric pressure, humidity)
WinDyn™ software
System can run automated tests; Requires a computer system to save, view, and print test data
Operator's table with manual throttle control, large enough for a monitor, computer keyboard, and mouse
1 day of training*
Popular Options
16-channel thermocouple panel and 8 exhaust gas thermocouples
10-channel pressure panel with two pressure transducers: 0-150 psi and -15/+85 psi
Engine control panel - relays for ignition, starter, and fuel
Single-channel fuel system (fuel pump, regulator, fuel turbine)
Mini tower computer system, 17" CRT monitor, color printer
And many more... * Travel costs, travel time and expenses not included.

More Info:

Downloads
Are you trying to inquire about a part or check availability of a product or a solution service?
Please either call +60-3-7785 1255 at or email us at wso@assurich.com.my or submit an enquiry form online.