Black Widow
Engine Dynamometers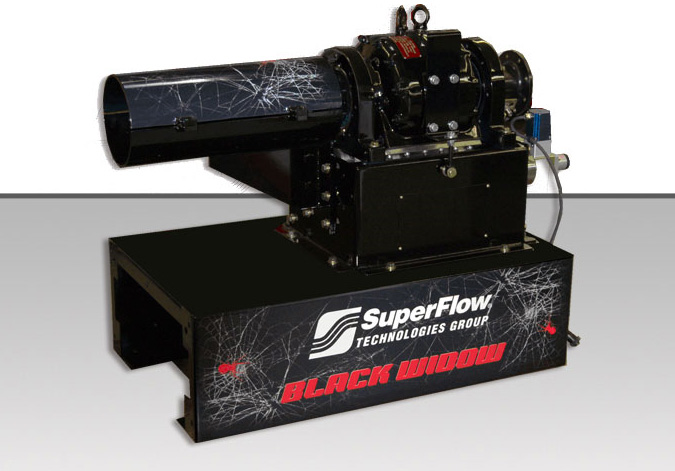 The new Black Widow from SuperFlow is a breakthrough in versatility and performance among water brake dynamometers. With a speed range from 1,300 rpm all the way to 11,000 rpm (intermittent), the Black Widow handles anything from high-torque marine engines to high-revving drag engines. Our engineers have taken careful steps to ensure that the Black Widow comes with the legendary accuracy, repeatability, and control that all SuperFlow dynos are known for.

The next generation of dynamometer software is here. Users told us they wanted software that was easy to use and completely customizable, and we listened. WinDyn 3.1 has our standard predefined test groups to get you testing quickly, but we've also added a new Microsoft® Windows®-based configuration editor that allows you to create custom test profiles, screens, controls, and limits easily and without any programming knowledge.


Features:

Heavy-duty water brake absorber (unidirectional)

2,800 hp at 6,400 rpm
2,500 lb.ft of torque at 1,300 rpm
9,000 rpm continuous (11,000 rpm intermittent)

New WinDyn 3.1 software
High-resolution inlet and outlet valve control ensuring accuracy, repeatability, and rapid response
Docking engine cart
Deep-groove ball trunnion bearings
High-accuracy strain gauge load cell
Precise and responsive closed-loop control system
Precision-balanced, high-rigidity shaft assembly
Grease-lubricated shaft bearings
Protective driveshaft guard
Specifications:

More Info:

Downloads
Are you trying to inquire about a part or check availability of a product or a solution service?
Please either call +60-3-7785 1255 at or email us at wso@assurich.com.my or submit an enquiry form online.