Machine Tools
BEMATO

MILLING MACHINES

(CNC) Bed Mill
CNC Machining Center
Turret Mill
BMT 1654R/ 1654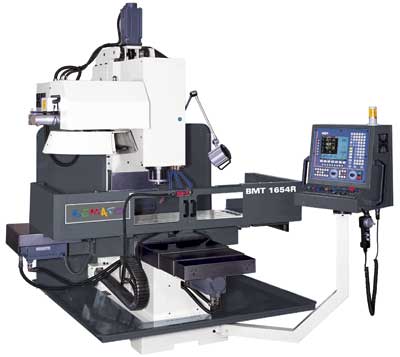 BMT 1654R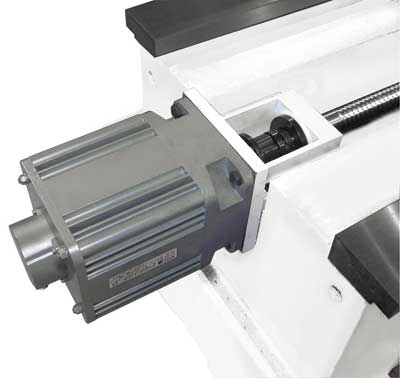 Direct Drive
BMT 1654R/ 1654UL
*Picture shown with optional table guard, rear splash guard, chip tray, metal way covers.
*Picture shown with FAGOR 8055MC-B and remote MPG (Standard) .

FEATURES :

High tensile and stress relief meehanite casting.

Base, column, saddle and table are well ribbed for the best rigidity.

Table, X axis dovetail way and Y, Z axis box ways are flame hardened and precision ground.

All mating surface of slide ways are coated with Turcite-B and precision scrapped.

Z axis counter weight ensures smooth movement.

High precision ball screw on all three axis with direct driving couping to eliminate backlash.
SPECIFICATION :
MODEL
BMT 1654R
BMT 1654UL

TABLE SIZE

430 x 1370 mm

TABLE LOAD

1.0 Ton

X, Y, Z TRAVEL

1000 x 508 x 600 mm

HEAD TYPE

Rigid head-R

Turret milling head-UL

SPINDLE NOSE

BT40 or CAT 40

NT40

SPINDLE SPEED

50~6000 RPM
(8000, 10000, 12000-Opt.)
High range :721~4200 RPM
Low range: 60~720 RPM

SPINDLE MOTOR

10 HP

5 HP

X, Y, Z BALL SCREW

Ø40 mm, C5, double nuts

BALL SCREW PITCH

10 mm

SADDLE SIZE

320 x 1220 mm

Y SLIDE WAY WIDTH

450 mm

Z SLIDE WAY WIDTH

300 mm

SPINDLE CENTER TO COLUMN SURAFCE

530 mm

520 mm

SPINDLE TO TABLE

100~700 mm

RAPID TRAVERSE RATE

20 m/min

MAX. CUTTING FEED RATE

5 m/min

TURCITE-B

3 axis & gibs

X, Y WAY COVER

metal

Z WAY COVER

Rubber (Standard), Metal (Opt.)

NET WEIGHT

3000 kgs

FLOOR SPACE WITH TABLE GUARD

3500 x 2500 x 2520 mm

*The above specifications are subject to change without prior notice.
Are you trying to inquire about a part or check availability of a product or a solution service?
Please either call +60-3-7785 1255 at or email us at wso@assurich.com.my or submit an enquiry form online.