Industrial & Pnuematics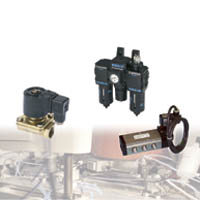 Industries generally rely heavily on compressed air as an essential power source, and when these systems malfunction it can have a devastating effect on the production and profitability of the business.

Experience indicates that the majority of pneumatic equipment failures are caused by contamination of the air supply. It is critical that care be taken to ensure the cleanliness of the air as correct selection and matching of products is vital to the final result.

Assurich supply a comprehensive range of air preparation equipment and can customise most pneumatic control applications with our robust range of products. When it is important that valves for liquid and gases function every time, installing a Goyen valve ensures that the process has the best possible chance against failure. Goyen has a proven track record in delivering products that stand up to the harshest environments


The "Industrial & Pneumatics" category features:
Assurich can also design, in consultation with our clients, unique and application-specific valves and control devices to meet your specific needs.
General Industrial Solenoid Valves

---



These valves can also be supplied under WaterMark approval in compliance with Australian standards

Goyen manufactures and distributes valves that are designed for specific applications relating to the control of gas, fuel, air or water. There are two principal types of operation for solenoid valves - direct lift and pilot operated.

Direct Lift Valves
In these models, movement of the plunger directly opens or closes the valve as the sealing disc is attached to the plunger. The valve will operate from zero pressure differential to its maximum rated pressure.

Pilot Operated Valves
These models are equipped with a diaphragm or piston which provides the seal for the main valve orifice. These valves are used to handle much greater flow or pressure requirements than direct acting valves.

2 - Way Valves
These valves have one inlet port and one outlet port and are used as an on/off valve to control the flow of liquids or gases.

3 - Way Valves
These valves enable the application and release of pressure from closed end systems, such as single acting cylinders.

Categories:

---
Pneumatic Controls

---

Goyen's pneumatic control valve range is manufactured to ISO9001 standards that ensures quality assurance in design, development and production. Goyen have been manufacturing and supplying quality pneumatic products to the Australian market for over 60 years. Our success has been based on providing quality products, on time and at a competitive price, backed by customers service that is second to none.

In addition to the products detailed in the attached literature, Goyen manufactures and supplies a comprehensive range of pneumatic products aimed at providing users with total system solutions.

Single Piloted Valves
Goyen's single piloted valves are supplied with internal air return as standard. Spring return or spring and air return are optimal.

Solenoid Valves
Goyen solenoid valves are supplied with a monostable manual test as standard. Bistable manual test or no manual test are optimal.

To view the various Pneumatic Controls areas, please select from the following links:

---
Modular Air Preparation Systems

---

While compressed air is an essential power source in most industries. It is susceptible to contamination from dirt, rust, pipe scale, oil, aerosols and moisture, all of which can inhibit product quality and production line efficiency.

It is a fact that more than 60% of all pneumatic equipment failures are caused by contamination from one of these sources and the resulting malfunction of just one system component can ruin product or shut down your entire production line.

Wilkerson's comprehensive range of modular air line filters, regulators and lubricators provides a customised solution to almost any pneumatic control application.

The interchangeability of the components provides flexibility in system specification and ease of installation, assembly and mounting.

Wilkerson's renowed state of the art engineering and quality control ensures high flow rates with low pressure drops and reliable long-term operation.

The new 08 Miniature series features the same robust construction, fine tolerances and high flow characteristics of the regular range but in a compact design to allow even more options insystem design and specification.

Categories:

---
---
Are you trying to inquire about a part or check availability of a product or a solution service?
Please either call +60-3-7785 1255 at or email us at wso@assurich.com.my or submit an enquiry form online.