Air Pollution Control Valves
GOYEN

GOYEN Mecair
GOYEN
Gas & Particulate Emission Monitoring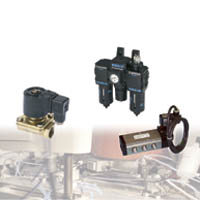 Assurich - offers a complete range of Continous Emission Monitoring, Particulate Opacity Monitoring, Combustion Control, Process Analysis and Control, Cross Stack Gas Analysis and Portable Gas Equipment that can be utilised across a multitude of industrial applications. With thousands of successful installations worldwide, TES understands the specific requirements of industry, and can tailor an effective solution for even the most challenging application.
Goyen is a division of Tyco Flow Control Pacific, which services the worldwide gas, water industrial process and infrastructure markets with the most comprehensive range of proprietary products and services available from a single source.
Assurich supports the products "we" offer with manufacturing, engineering, service, inventory and project management tools designed for 'total data integrity'.
To ensure that a plant or process is environmentally sustainable many companies (across numerous industries) utilise Assurich emission monitors, for both gas and particulate, to ensure plant optimisation. Assurich has extensive experience in the pollution control industry, and can offer several alternatives to maximise plant efficiency.
Assurich' continous monitoring systems take the guess work out of environmental management, providing accurate data for reporting purposes and minimising the risk of costly environmental licensing infringements. Gas and particulate monitors also double as preventative maintenance tools, determining optimum efficiency levels in combustion processes and maximising the life of baghouse filters.
Our Categories include:
Continuous Emission Monitoring Systems

---




Please select from the following categories:

---
Process Monitoring and Control

---

Our process analysers are technically superior, utilise proven state of the art measurement detectors, robust sample handling components and can measure a broad range of gases in either a general purpose or hazardous duty location.

The Model 50 analysers utilise semiconductor industry standard PC-104 electronics platform for maximum measurement, communications and processing capabilities. We also offer the capabilities to couple all of our analysers with a custom built application specific sample handling system depending upon the users needs.

Model 2010BR: Single Channel Trace O2 Analyser
Model 50P: Six Channel Paramagnetic O2 Analyser
Model 50Z: Six Channel Zirconia O2 Analyser
Model 50N: Three Channel NDIR-GFC; CO/CO2/NO/CH4/SO2 Analyser
Custom Analysers: Tyco has the capability to design an analyser for your needs. By fitting the analyser with the proper gas measurement detector, the most suitable electronics and most advanced packaging we can have an analyser tailor made for your application. Call for more details.\

---
Particulate Monitoring

---




Continuous Particulate Emission Monitors Using Tribo technologies

The Particulate Monitoring Opacity and Bag Leak Detection category offers a number of solutions, these being:

---
Data Acquisition and Control

---

Connect V5 Data Acquisition System

Connect V5 is the next generation data acquisition and control platform that has the ability to control, trend, report and alarm any device.

What makes Connect V5 unique is that it can be customised to suit any plant and is not just for Goyen emission monitoring equipment. In contrast to most purpose built reporting packages Connect V5 is standard with 75 inputs, but can be as large as 15,000 I/O points.

Another advantage of the Connect V5 system is the ability to interconnect to various protocols. Standard Connect V5 comes with Modbus and Profibus protocols, however up to 200 other drivers are available with the software ensuring suitability for most plant operating conditions. As part of any solution Goyen can provide the software configuration to suit the existing plant monitoring and control systems allowing a plant to utilise one reporting, alarming and control platform.

True client-server architecture provides high integrity and reliable data. This is achieved by utilising 5 tasks that operate independently from each other working as a distinct client or server modules performing its own role and interfacing with other clients. The 5 fundamental tasks are communicating with I/O Devices, monitoring of alarm conditions, reporting, trending and user display.

Using client-server architecture minimises the amount of data traffic buy ensuring that most data management is performed by the server, therefore the client is only requesting specific "packets" of information. The result is the minimisation of data traffic and thus greater reliability.


---

Connect Network System

The Connect Network System utilises RS485, Modbus RTU for long haul data transmission.

Connect is a multi-threaded application, written under Microsoft Visual C++ Studio, following all Microsoft recommendations. Thus Connect is capable of running simultaneously with other standard Windows applications.

Signals from various nodes are sent through junction boxes where they download to the Connect Network Link. Up to 29 nodes can be incorporated into one network which can then be connected through a power supply/converter (ANP1) that converts the RS485 signal to RS232 format. A designated serial port is required for the system.

What it Does:

A total process data acquisition system.
Continuously quantitatively and instantaneously records and reports process conditions.
Continuously monitors and records particulate as well as any analogue signal such as temperature, pressure, associated with a process.
Can have up to eight different traces in each of eight different trends on screen at any one time showing different parameters eg. concentration, mass flow, pressure, velocity, temperature.
Extensive internal function library including; alarms, DDE (Dynamic Data Exchange), Historical logging, trend charting, averaging.

---
Installation Service and Support

---




Assurich - Goyen, is committed to providing after sales service and support for all our products. System start-up and integration services, preventative maintenance, trouble shooting, installation, certification assistance, factory and "on-site" training are available to our customers.

If you require routine maintenance, emergency service or application questions the Tyco service group is a key tool to enable you to operate your plant at maximum operability. Rapid spare parts delivery through extensive inventory and highly trained technicians will limit any downtime, keeping your process effectual and compliant.

Benefits:

Improved productivity and efficiency
Maintain accuracy of measurement
Reduced operating costs
Increased instrument operational lifespan.

---
Opacity Monitors

---

Opal Opacity Dust Monitoring Systems:

Opal Opacity & Dust Transmitter:

Opal Air Blower Assemblies:

Opal Audit Test Kits for Opacity & Dust Monitoring Systems:

OPAL Fail Safe Shutter Assemblies

---
Opacity Monitors

---



The Flow Monitoring category offers:

Opal Flow Monitoring:




---
---
Are you trying to inquire about a part or check availability of a product or a solution service?
Please either call +60-3-7785 1255 at or email us at wso@assurich.com.my or submit an enquiry form online.